Additives can speed up the production of print jobs without the need to add slip sheets to prevent the prints from sticking or to perform aqueous glazing.
Printing workshop
For decades, printing companies have been looking for ways to accelerate ink drying. Many people try to add desiccants, specialty inks, and waterborne varnish to the ink.
Speedy Dry, a company located in NC, USA, is a company specializing in the production of ink additives that can speed up cross-link curing reactions during ink drying. SpeedyDry ink additives are suitable for traditional offset printing inks and can be printed on a variety of substrates, even on plastics. This additive has been put into production for more than four years.
GATF broke this situation
Independent testing conducted by the US GATF showed that SpeedyDry can significantly reduce ink drying time without significant impact on print quality and ink properties such as tone reproduction and ink viscosity. In addition, GATF also reported that SpeedyDry can improve the ink's anti-friction ability. The test conditions are as follows:
· Print shop: The temperature is 70.5 degrees Fahrenheit; the humidity is 45%.
• Press: Heidelberg's 40-inch Speedmaster press with a print speed of 7,000 sph.
· Plate: Diamond Western Litho, with 175 lpi screens, with a 4% tone jump in the middle.
· Ink: INX OSF Vision Plus four-color ink.
· Printing color sequence: black, product, blue, yellow.
In the GATF laboratory, an independent test was performed on highly textured reflective blue ink on Yupo synthetic paper. The results showed that in the absence of the SpeedyDry additive, the sheet drying time was 12.1 hours. If 5% of additive is added, the drying time will be reduced to 6.7 hours, and when 20% of desiccant is added, it will be decreased to 2.9 hours.
It usually takes 2-3 weeks for the printer to master the ratio. Frank Kocialski, director of printing at Colorado Litho in the United Kingdom, said: "We print on uncoated paper with a purely reflective blue ink with SpeedyDry ink additive, and we can polish and cut in an hour and a half. Many salespeople and The operator of the cutting machine is very happy for this."
Material properties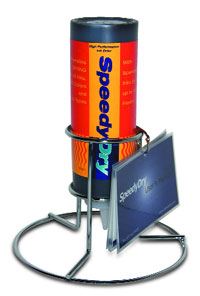 Shane Landis is one of the founders of SpeedyDry. He has 25 years of experience in press operations. He participated in the development and testing of the additive. The tested substrates include:
· Sappi Magnostar coated paper. Due to the small surface porosity of this paper, Landis noted that it requires only a small amount of ink and water during the printing process.
· Neenah Classic Crest non-coated cover sheet. Due to the higher acidity of this paper, it usually takes 2-3 days to complete the drying.
· Tomahawk Cool White felt paper, which is a kind of granular soft paper, suitable for printing limited art prints. Landis said that because of its greater absorption, it requires more ink.
Sappi Somerset Matte Paper, Landis noted that this paper contains more kaolin, like coated paper, but it can also be used because of its higher acidity.
· Transilwrap Tipped Polyester plastic paper. Landis said that the material was first affixed with a backing paper, and when it was cut during the finishing process, the backing paper would fall off. This material is suitable for light boxes, soda machines and so on.
In addition to the polyester material, 80 lbs were selected for the rest of the material. Before the tester pours the ink into the ink fountain, the liquid SpeedyDry additive is added to the ink with a squeegee, and no special procedures or equipment are required. In the printing process of these five kinds of papers, one mark should be made for every one hundred prints, and then it is taken to the laboratory for printing and setting analysis using an ink setting and drying time recorder. After printing for 1 hour and after printing for 3 hours, paper sheets were checked for drying time analysis. The results of the analysis are shown in the table below.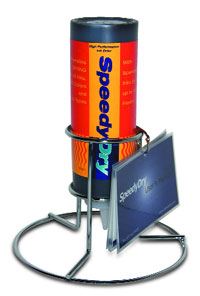 The paper used for printing analysis was left open after being taken out of the paper table so that the plastic paper was dried within 10.7 hours. It was the longest time of testing. GATF believes that if the paper stays on the delivery table, it will dry more slowly. These inks were not designed for plastic printing, but because of the SpeedyDry additive, the ink quickly dried.